Everything You Should Know About Mountain Bike Rack
Thanks to the most recent generation of hitch racks, it is now easier than ever to transport a bike without fumbling with it inside a car. A mountain bike car rack is designed to convey a user's pedaled belongings without rattling and are built to make loading and unloading the bike straightforward.
Every rack made is a reliable option for the user's impending two-wheeled adventure, regardless of the number of bikes it can hold, how many bikes it can mount, or how a mountain bike car rack is triggered for trunk access.
The Different Types Of Mountain Bike Car Racks Available
The major types in which mountain bike car racks can be divided are mentioned below:
Platform hitch bike racks: The bike's front and back wheels are secured over the rims of platform mountain bike car racks in wheel trays. With minimal frame/rack contact, Shepherd's hook ratchets down onto the top of the front tire to securely hold the bike in place. Platform racks may hold a maximum of 4 items. These racks are perfect for bikes with carbon frames and wheels as well as full-suspension mountain bikes with non-traditional frame designs.
Hanging hitch bike rack: Hanging hitch-type mountain bike car racks transport bikes by their frame rather than their tires, in contrast to platform racks. The two support bars of the rack are commonly used to suspend bicycles from their top tubes. With capacities varying from 2 to 5, hanging racks may frequently hold bicycles with wheels 16 inches and larger.
Hanging racks are the finest option for users on a limited budget, especially if they need to transport three or four bikes. Hanging bike racks are far lighter than a platform and vertical hitch bike racks, making them much simpler to set up and take down. As a result, a hanging rack is a good option if the user doesn't want to keep the rack on the car for a lot of time.
These kinds of racks have the problem that, in comparison to the platform and vertical racks, bikes on hanging hitch racks are placed much closer together and make a lot more touch with one another. Scratches are typical and to be anticipated. A hanging rack would be unnecessary if the user is transporting better-quality bicycles, especially larger adult bicycles.
However, if they can only afford a hanging rack, they should make sure to pick one with greater capacity than they require so they can leave extra room between the bikes when loaded. If the bike has a carbon frame, the user's sole alternatives are platform and vertical. Never use a hanging rack to transport bikes with carbon frames.
Vertical hitch bike racks: Bikes are mounted on vertical hitch bike racks with the front tire pointed up and the back tire pointed down, perpendicular to the ground. Bikes mounted vertically on racks can hang by either their front tire or the headset, avoiding contact with the frame. Vertical hitch racks are available in capacities ranging from 3 to 7, and they can hold bikes of all shapes and sizes.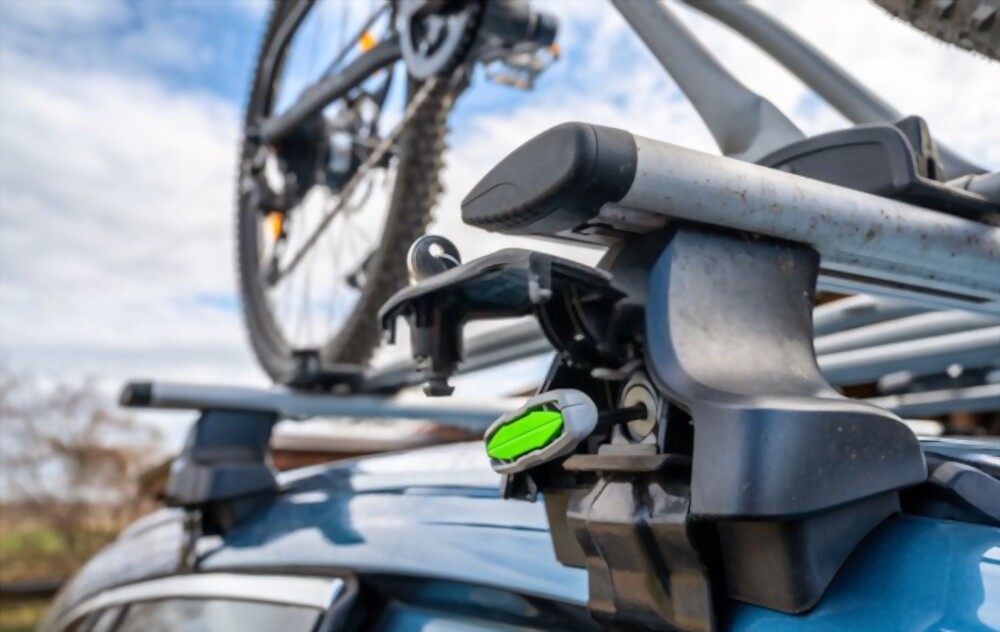 The fit varies between companies, particularly for children's bikes 20 inches and under, therefore the buyer must make sure to double-check compatibility before making a purchase. These work well for people who need to transport more than four bikes.
However, certain manufacturers suit road and gravel bikes with dropper bars better than others, even though all vertical hitch racks normally work well with mountain and hybrid bikes. Vertical hitch racks, as opposed to the platform and hanging racks, don't block a car's tail lights and rear blinkers nearly as much. Along with being safer, obstructing tail lights is frequently against the law in many places.
Conclusion
Carrying mountain bikes around different and exciting terrain can be a tough job, but with a mountain bike car rack, the whole task becomes very quick and easy. These racks help carry the bike on the user's car safely and with ease. Investing in a good quality rack is a necessity for mountain bike owners who like to carry their bikes along with them to new and different types of exciting mountain bike terrains and love riding around a dirt track in the middle of the wild.