Unlocking the Dark Arts of Fashion: The Key Elements of Gothic Style
Gothic fashion is a unique and alluring style that draws inspiration from the darker aspects of life. From the supernatural to the macabre, Gothic fashion has a mysterious and seductive appeal that captivates people from all walks of life. So, what are the key elements of Gothic fashion that make it so irresistible? Let's take a closer look.
Black Clothing: The Ultimate Expression of Individuality and Non-Conformity.
First and foremost, Gothic fashion is all about the colour black. Black is the foundation of the Gothic aesthetic. It's a way of expressing individuality and non-conformity. It's like saying, "I don't follow the rules; I make my own." Black has powerful symbolism that speaks to the Gothic community. It represents darkness, mystery, and the unknown. It's the colour of the night, of shadows, and of the macabre. Moreover, black is incredibly versatile and can be combined with different textures and fabrics to create a unique Gothic style. For example, a
gothic blouse
can be styled with a black velvet skirt or paired with gothic trousers to create a bold and dramatic look. A gothic cape or a black leather jacket can be worn over a lacy dress or with gothic skirts to add an element of mystery and edge. Gothic skirts come in different styles, such as long flowing skirts or short mini skirts, and can be pair-ed with a gothic blouse or a black chiffon top to create the perfect gothic look. When it comes to
goth trousers
, black leather pants or skinny black jeans can be paired with a gothic blouse or a black tank top to create a sleek and edgy look. Whatever your style may be, incorporating black into your wardrobe can help you achieve the perfect gothic look. If you want to express your inner Gothic spirit and create a look that's both edgy and timeless, black is definitely the way to go. Whether you're wearing black head-to-toe or incorporating it into your accessories, black is the ultimate power colour for Gothic fashion.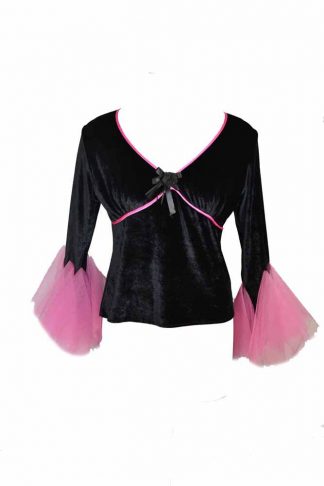 Lace: Key Element of Gothic Fashion that Adds a Touch of Romance and Femininity to Any Outfit
Lace is like the perfect balance between darkness and light. It's the yin to the yang, the softness to the edginess. Lace is such a versatile fabric that can be used in so many ways in Gothic fashion. For example, a simple black lace collar can add a touch of Victorian elegance to a leather jacket or a denim shirt. A black lace choker can create a mysterious and alluring neckline that draws attention to the face. But, of course, the real magic happens when lace is used in full-length dresses or skirts. There's something so enchanting about the way the lace flows around the body, creating a sense of romance and ethereal beauty. A black lace maxi dress can be both Gothic and bohemian, creating a look that's both dark and free-spirited.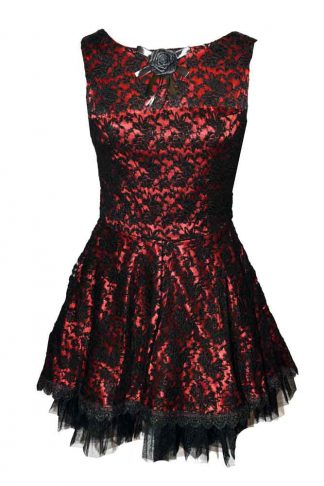 Corsets: Timeless Garments Have Been a Staple of Gothic Fashion for Centuries, Providing a Dramatic and Flattering Silhouette.
Corsets are another defining feature of Gothic fashion. These tight-fitting garments are like a magic trick that creates an instant hourglass figure. Corsets have been around for centuries, but in Gothic fashion, they take on a whole new level of sexiness and sophistication. Gothic corsets are made from the most luxurious materials you can think of. From velvet to silk, from satin to lace, these fabrics are soft to the touch and create a sense of opulence and sensuality. And let's not forget about the details! Gothic corsets are adorn-ed with intricate embroidery, delicate lace, and metal clasps that add a touch of drama and edge. But the real power of Gothic corsets lies in the way they shape the body. Corsets are like a sculptor's tool, creating a perfectly proportioned silhouette that accentuates the curves in all the right places. They cinch in at the waist, creating the illusion of a smaller waistline, and push up the bust, creating a sexy cleavage. But corsets are not just about creating a sexy figure. They are also about empowerment and confidence. When you wear a corset, you feel like a Gothic goddess, in control of your body and your sexuality. You exude a sense of power and sensuality that's hard to resist.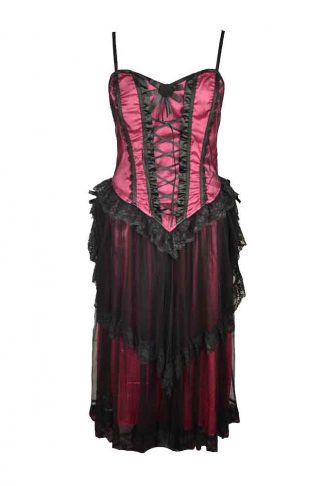 Leather and PU : Perfect Materials for Adding a Touch of Edge and Toughness to Any Gothic Look.
Leather and PU are another key element of Gothic fashion. They exude a sense of rebellion and edginess that's hard to resist. In Gothic fashion, leather and PU are used in all sorts of garments, from jackets to pants to boots, adding a touch of rock and roll to any outfit. Leather and PU are not only edgy but also durable and versatile. They can withstand the test of time, making them a great investment for any Gothic wardrobe. They also have the ability to transform any outfit, giving it an instant edge and making it more interesting. A simple black dress can become a Gothic masterpiece with the addition of a leather jacket or a pair of leather boots. But leather and PU are not just for the tough and rebellious. They can also be dressed up or down, making them a perfect choice for any occasion. A leather skirt can be pair-ed with a lace blouse for a romantic Gothic look or with a band t-shirt for a more edgy vibe.
Metal Accessories: Essential Part of Gothic Fashion That Add a touch of Darkness and Glamour
Finally, Metal accessories are like the ultimate armour of Gothic fashion! They add a sense of toughness and attitude to any outfit, making the wearer look like a true warrior of the night. In Gothic fashion, metal accessories come in all shapes and sizes, from spiked bracelets to studded belts, and are often adorned with intricate details such as skulls, crosses, and other Gothic motifs. One of the most iconic metal accessories in Gothic fashion is the spiked bracelet.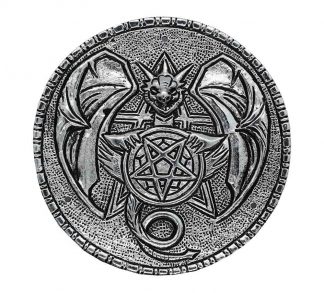 These bracelets are like the ultimate weapon of choice for the Gothic warrior, exuding a sense of aggression and power. They are often made of metal and feature spikes or studs that jut out from the bracelet, making a bold statement and showing off the wearer's
rebellious spirit
. Another popular metal accessory in Gothic fashion is the studded belt. These belts are like the ultimate symbol of strength and toughness, cinching in at the waist and adding a touch of attitude to any outfit. They are often made of leather and adorn-ed with metal studs or spikes, making them both functional and stylish. Gothic fashion is like a mesmerising symphony, with each element playing its part to create a hauntingly beautiful melody. The colour black sets the mood; lace adds a touch of elegance; corsets create the perfect silhouette; leather adds a rebellious edge; and metal accessories give that extra bit of attitude. Together, they create a style that is both alluring and mysterious, capturing the imagination of all who see it. Whether you're a seasoned Goth or just curious about the darker side of fashion, Gothic fashion has something to offer everyone. Its unique blend of elegance and edginess makes it a versatile style that can be adapt-ed to fit any occasion, from formal events to casual outings. So, if you're ready to take a walk on the dark side, embrace Gothic fashion and let us take you on a journey to a world where darkness and beauty intertwine. Jordash Clothing is a brand that offers unique and alternative clothing options. For those looking to stock up on Gothic clothing, wholesale Gothic clothing is also available. This can be a cost-effective option for those looking to build a wardrobe of Gothic pieces, whether for personal wear or resale. Embrace the dark side and let Gothic fashion elevate your style to new heights of elegance and edginess